Amazon Rainforest Community Industry


The possibility of constructing a new fabric in Iratapuru's riverside community is the result of a beautiful collective effort of many years. Collecting, processing and sharing the Brazil nut is the link that maintains a whole community economically active. Iratapuru River's extractive community historically occupied a vast territory along the river, however, after the execution of a nearby barrage and the creation of a large containment pond that expanded the riberbank, the community abruptly resettled in small lots, forming a small village and a new form of cohabitation. The productive expansion of extractivists and the access to a share of profits consolidated by the Brazilian company Natura, made it necessary for the community to envision a new future. In this image of tomorrow, they chose to invest in the creation of a new factory that supports greater production as well as a varied process of the processing of Brazil nuts.

In this context, and through discussions with the community, we proposed an approach that contemplates different steps of implementation and also different methodologies and construction techniques, considering that the money and knowledge invested in this new factory would be distributed locally as much as possible. The implementation strategy of the project consists of two parts. The first one is related to a light and efficient wooden structure with a prefab system made in loco, which takes into account the difficult and sole access by boat. The structure creates the shadow, demarcates an area and, through a system of measures, provides a transition between the open areas with less restrained functions and the confined spaces with more specific uses.

The second one is about the autonomous volumes that delimit specific areas, guaranteeing watertightness and all the necessary conditions for the operation of each function. These objets are built with compressed earth bricks made in loco, that can be fabricated and assembled by community members, giving them autonomy to continue the construction responding to the factory's expansion needs or slight adaptations in the future.

Affording a covered field and independent objects that occupy and articulate themselves within this covered area through clear and repeatable techniques is, besides a factory design, an intent to provides a set of favorable circumstances to the productive, cultural and economic expansion of the Iratapuru river community.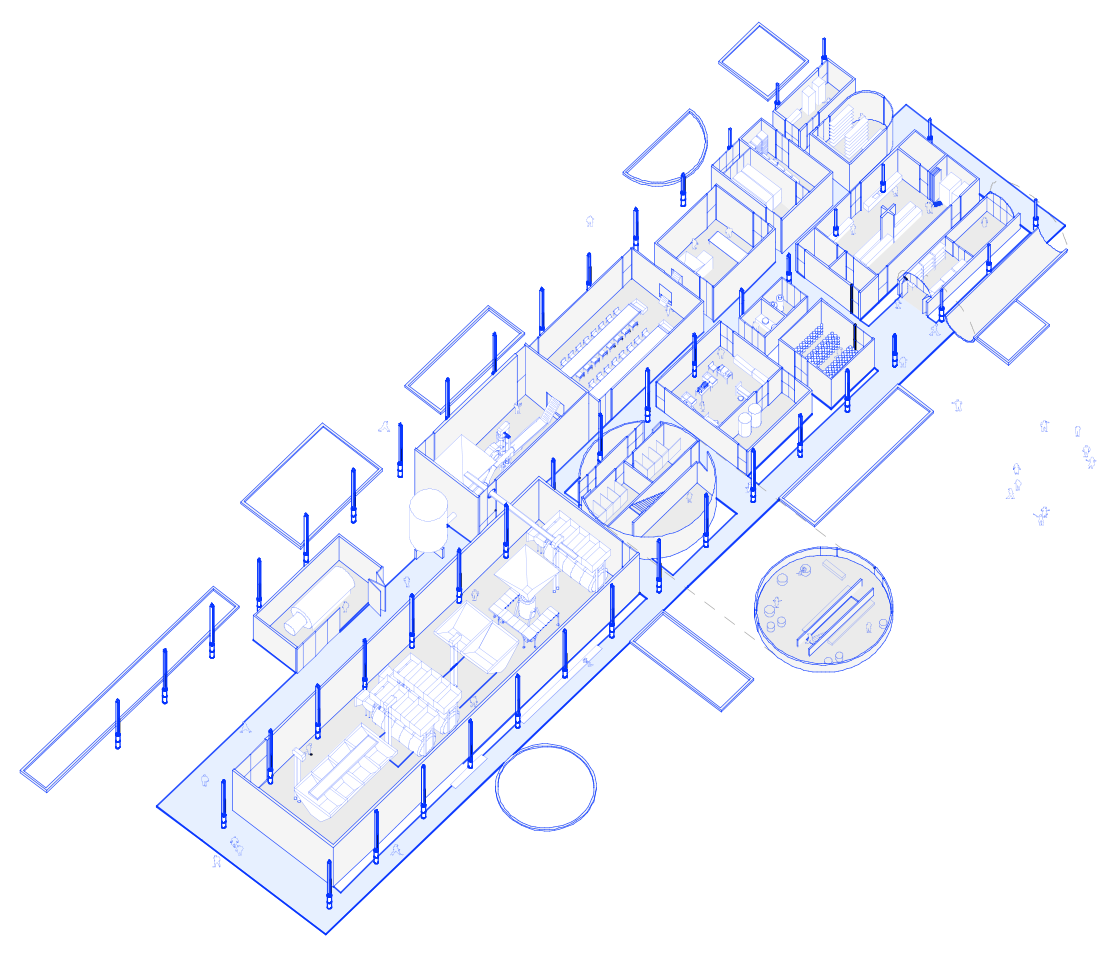 AUTHOR

Gustavo Utrabo

COORDENATION

Beatriz Rocha

PROJECT TEAM

Ana Mulky, Bárbara Bucker, Carlo Galli, Júlia Lazcano

CLIENT

Cooperativa dos Castanheiros do Rio Iratapuru

SITE

Comunidade do Rio Iratapuru

PROJECT YEAR

2019


MATERIALITY

Wood, Mudbrick, Textile.